YachtSpot PRO
Working at the heart of your onboard communications network, our top of the line model, the YachtSpot PRO gives you all the features that you get with YachtSpot 4G+ WiFi plus it supports two SIM cards and transparent integration of SAT systems bringing all your Internet connections under the one roof.
Transparent integration with Dockside Ethernet and Satellite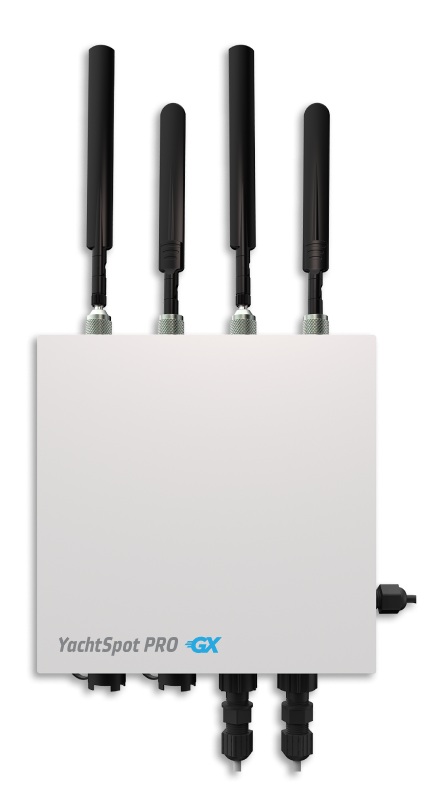 YachtSpot WiFi+
Dual Band WiFi plus integration with Satellite, dockside Ethernet, and 4G mobile + All your devices, all in one place, managed through our Internet Control Centre
Professional Dual Band 2.4 GHz and
5 GHz WiFi
Transparent integration with Dockside Ethernet and Satellite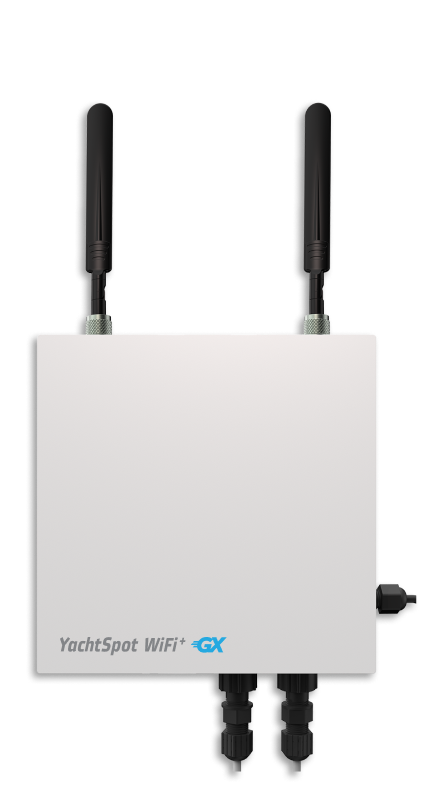 YachtSpot 4G+ WiFi
Our bestselling model with an ultra fast 4G LTE-A connection featuring state of the art MIMO technology, plus 2.4 GHz and 5 GHz WiFi all in one simple to use device that works in all corners of the world.
Professional Dual Band 2.4 GHz and
5 GHz WiFi
Worldwide database of SIM card connection settings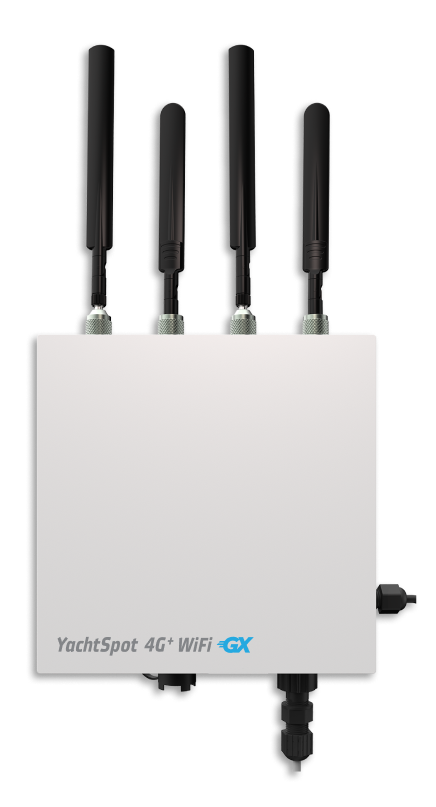 YachtSpot Marine 4G and WiFi routers
The Yachtspot range of professional, marine grade, Internet routers provide global coverage of 4G and WiFi frequencies allowing you to connect to the Internet using just the one device.
For over ten years Yachtspot has been the preferred choice of many of the world's top superyacht yards and installers. Created for the professional installer, Yachtspot comes with every option you will ever need and real support when you need it. It's great for the owner and the crew too, really simple to use.
All YachtSpot GX models include carrier approved firmware switching ensuring you will get a predictable performance and a reliable service when using specific US and Canadian carriers.
Yachtspot is manufactured using high quality, tough, seaworthy, professional hardware, designed to ensure your boat's network logs on, and stays on.
Features
4G Ultra LTE-A
300Mbps down
Support for WEP,
WPA/2 encryption
Aluminium case with waterproof fittings
All your Internet in one place
Internet Control Centre
Integration with FleetBroadband
Professional Dual Band
2.4 GHz and 5 GHz WiFi
DNS Blaster ™
Reliable DNS on
lossy networks
Show more features
"Advanced software designed to get you online quickly…"
The NEW Yachtspot PRO GX, Yachtspot 4G+ WiFi GX and YachtSpot WiFi+ are the latest arrivals in the Yachtspot family. Specifically designed to meet the needs of the marine leisure industry they build on the success of the Yachtspot PRO G3, Yachtspot 4G+ WiFi G3 and Yachtspot WiFi, combining WiFi and 4G mobile, with dockside Ethernet and Satellite integration, in our range of feature rich, professional devices.
Worldwide 4G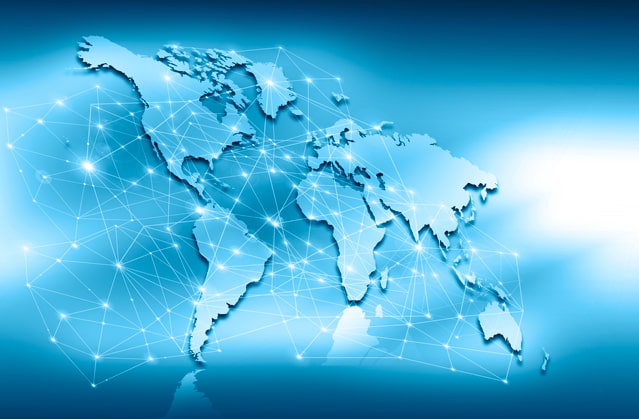 4G LTE-A services operate on different frequencies and use different protocols in different world regions. In the past you needed different mobile cards to gain Internet access in different regions.
YachtSpot GX supports multi-carrier image support which allows you to change the firmware to provide support for the frequencies and protocols required for mobile data access according to whichever region you are in. You change the firmware by selecting the provider in the Yachtspot user interface and clicking the change button. Click the 'List of countries' button below to see a list of the countries presently supported by YachtSpot.
Yachtspot works with 4G LTE-A both in the Americas and in the EU. 4G LTE can also be used elsewhere where there is support via one of the configurations. Failing that, 3G support is available almost everywhere there is a mobile data service.
Afghanistan
Albania
Algeria
Angola
Antigua and Barbuda
Argentina
Armenia
Australia
Austria
Azerbaijan
Bahamas
Bahrain
Bangladesh
Barbados
Belarus
Belgium
Bosnia and Herzegovina
Botswana
Brazil
Brunei Darussalam
Bulgaria
Burundi
Cambodia
Cameroon
Canada
Chile
China
Colombia
The Democratic Republic of the Congo
Costa Rica
Croatia
Cyprus
Czech Republic
Denmark
Dominican Republic
Ecuador
Egypt
El Salvador
Estonia
Ethiopia
Faroe Islands
Fiji
Finland
France
French Polynesia
Georgia
Germany
Ghana
Greece
Greenland
Guadeloupe
Guatemala
Guernsey
Guyana
Honduras
Hong Kong
Hungary
Iceland
India
Indonesia
Iran
Iraq
Ireland
Isle of Man
Israel
Italy
Ivory Coast
Jamaica
Japan
Jersey
Jordan
Kazakhstan
Kenya
Republic of Korea
Kuwait
Kyrgyzstan
Lao Peoples Democratic Republic
Latvia
Lebanon
Lesotho
Lithuania
Luxembourg
Macao
Macedonia
Madagascar
Malawi
Malaysia
Maldives
Mali
Malta
Mauritius
Mexico
Moldova
Mongolia
Montenegro
Morocco
Mozambique
Myanmar
Namibia
Nepal
Netherlands
New Zealand
Nicaragua
Nigeria
Norway
Oman
Pakistan
Panama
Paraguay
Peru
Philippines
Poland
Portugal
Qatar
Reunion Island
Romania
Russian Federation
Rwanda
Saint Lucia
Saint Vincent and the Grenadines
Saudi Arabia
Senegal
Serbia
Singapore
Slovakia
Slovenia
South Africa
Spain
Sri Lanka
Sudan
Sweden
Switzerland
Taiwan
Tanzania
Thailand
Trinidad and Tobago
Tunisia
Turkey
Uganda
Ukraine
United Arab Emirates
United Kingdom
United States
Uruguay
Uzbekistan
Venezuela
Viet Nam
Close
MIMO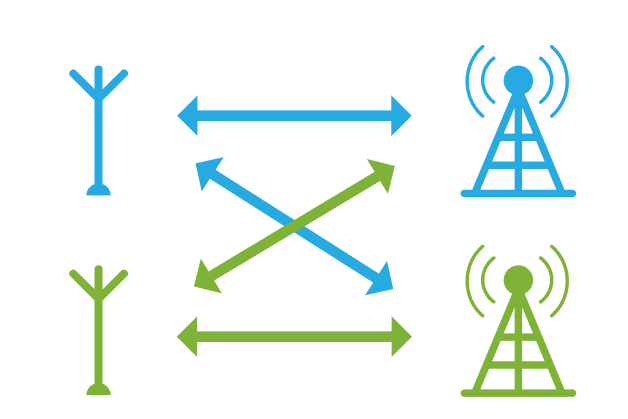 MIMO, multiple-input and multiple-output, is a method for multiplying the capacity of a wireless link by using multiple transmit and receive antennas for sending and receiving more than one data signal simultaneously over the same radio channel.
MIMO has become an essential element of wireless communication standards including WiFi and 4G LTE.
Dual band 2.4 GHz and 5 GHz WiFi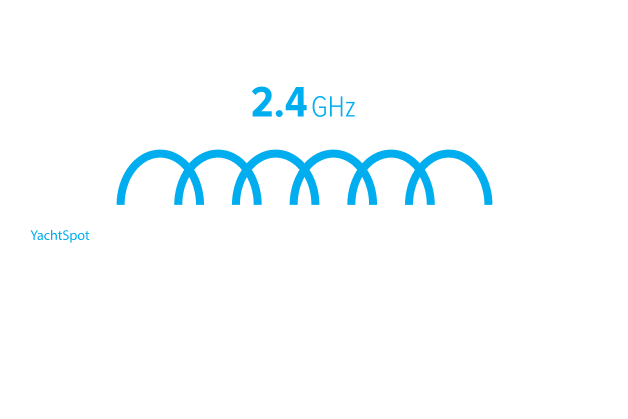 Yachtspot supports both 2.4 GHz and 5 GHz WiFi with the correct antenna support.
At present 2.4 GHz WiFi is ubiquitous in marinas but it is often congested. 5 GHz WiFi is not as freely available but where it is it can supply a less contended and more reliable Internet experience.
Technically 2.4 GHz suffers from overlapping channels which cause loss and delays. It does however travel farther. This does mean though that interference can come from a far wider area degrading performance. 5 GHz WiFi doesn't suffer from overlapping channels and therefore it's far easier to aggregate channels to dynamically achieve a higher bandwidth and therefore greater speed. Note that most marina WiFi is quite slow so without dedicated 5 GHz support with a fast and wide back haul some of the benefits will not apply.
Dual SIM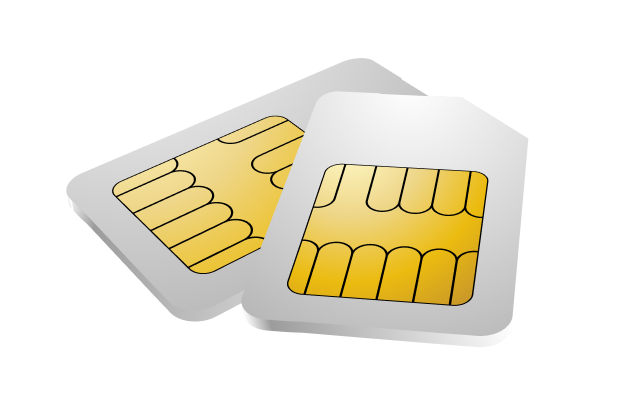 The YachtSpot PRO comes with dual SIM slots.
The active SIM can be switched simply through the user interface.
Not only is this convenient for the end user but also useful to installers who can fit and forget SIMs so the unit can be used in different regions without the end user having to access the hardware which is often difficult on boats and not without risk of damage to the SIM and/or SIM slot by users unfamiliar with the unit.
DNS Blaster™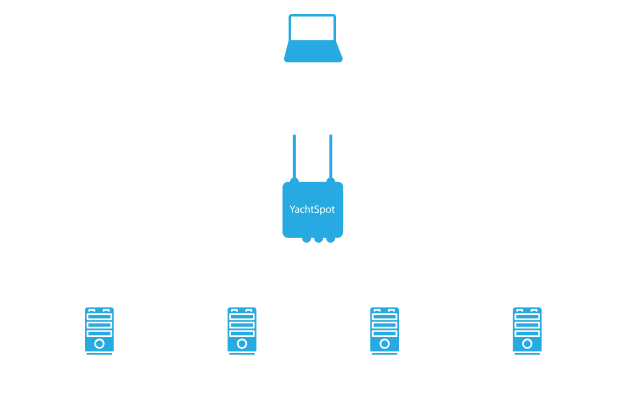 Yachtspot's DNS Blaster™ technology enables you to surf the net faster! DNS Blaster™ speeds up Internet browsing by querying several DNS servers simultaneously and returning the first reply received, resulting in requests for web pages going out much quicker, especially on slow and lossy networks. More importantly DNS Blaster™ virtually guarantees a reply to a DNS query which eliminates the wait caused by lost UDP packets which is common on AIR networks.
Advanced Firewall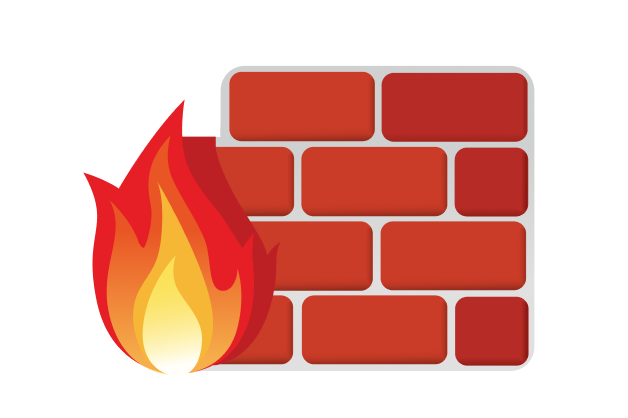 YachtSpot's advanced stateful firewall monitors incoming and outgoing packets and the state of the connection and stores the information in state tables. Packets are evaluated and filtering applied not only upon administrator-defined rules but also on the information collected from previous connections and information about previous packets belonging to the same connection.
YachtSpot's advanced stateful firewall offers further granularity as filtering rules can be dynamically applied according to the selected WAN connection, so that for instance specific hosts could only use specific protocols when accessing the Internet via 4G, or for instance say you integrated a Satellite link using our Internet Control Centre then you could limit access to the Internet over Satellite to the owner's PC.
SafeSurf VPN ™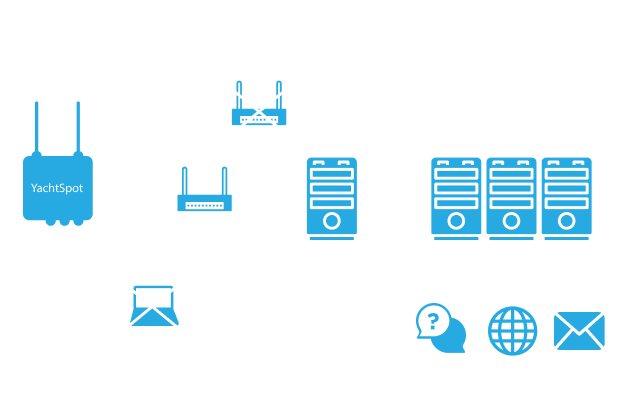 Using open WiFi has always carried the risk that your Internet activities can be listened to. It's a complex subject, but what is sure is that by routing your traffic over a VPN those risks are eliminated.
YachtSpot's SafeSurf VPN ™ can fully encrypt your WiFi traffic to our secure VPN servers.
Internet Control Centre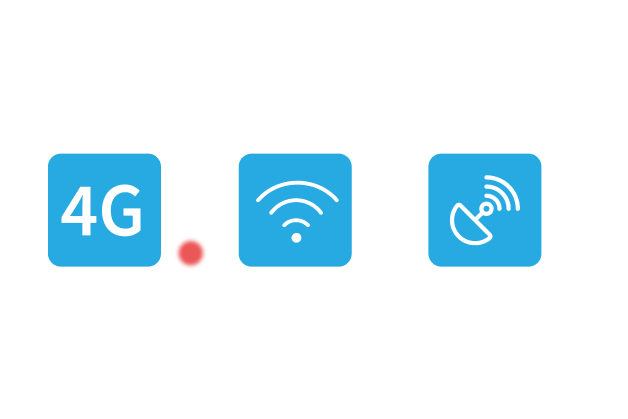 The Internet Control Centre, our built-in simplified switching solution is similar to other manufacturer's "selectors" but comes at a drastically reduced cost and comes integrated into the existing unit.
Yachtspot can be partnered with other IP based devices, for example Fleet Broadband or dockside Ethernet in order to centralise the provision of alternative means of Internet access. Put simply, all your Internet connections can be managed in the one place.
Worldwide 4G
MIMO
Dual band 2.4 GHz and 5 GHz WiFi
Dual SIM
DNS Blaster ™
Advanced firewall
SafeSurf VPN ™
Internet Control Centre
Feedback
Since we switched to using Yachtspot our jobs have become a lot easier and our customers a lot happier...
Must say you have been fantastic. Thanks very much, and thanks for your time
I'm happy to report that our Yachtspot is functioning well the Captain is very happy... no problems onboard at all.
Love your product - the best I've seen, it even impressed one of the founders of SUN Microsystems when it was shown to them
Sir, I have used one of your units on my previous vessel and found it to be exceptional.
Model comparison
| KEY FUNCTIONS | YachtSpot PRO GX | YachtSpot 4G+ WiFi GX | YachtSpot WiFi+ |
| --- | --- | --- | --- |
| 2.4 GHz and 5 GHz WiFi with MIMO support | | | |
| Global 4G coverage with MIMO support | | | |
| Number of SIMs supported | 2 | 1 | |
| Integration with SAT, Fixed line and other routers | Internet Control Centre | Team Connectors | Internet Control Centre |
| Number of antenna connections * | 2 x WiFi, 2 x Multi Cellular | 2 x WiFi, 2 x Multi Cellular | 2 x WiFi |
*There are many options regarding the number of antennas required including non MIMO single antennas and the use of combiners
Yachtspot has gained the reputation for being the simplest to use, and most reliable Mobile and WiFi Internet connection solution for the leisure marine market.
Yachtspot is similar in functionality to a Broadband router you would use at the office, or at home. The internal interface is Ethernet, which can be shared using a switch and/or a wireless access point. The external interface uses either a wireless or a mobile client to connect to WiFi hotspots, and mobile base stations. Yachtspot's connection to the Internet can be shared between all of the boats on-board laptops, desktops, servers, PDA's, VOIP phones, mobiles, and any other device that can use an Internet connection.
GLOBAL 4G COVERAGE INCLUDING THE US AND EUROPE
Sierra Wireless MC7455 module with Qualcomm chipset
LTE E-UTRA bands, 2100(B1), 1900(B2), 1800(B3), 1700(B4), 850(B5), 2600(B7), 900(B8), 700(B12), 700(B13), 800(B20), 1900(B25), 850(B26), 2300(B30), 2500(B41)
WCDMA/UMTS, HSDPA/HSUPA, HSPA+, DC-HSPA+ bands, 2100(B1), 1900(B2), 1800(B3), 1700/2100(AWS)(B4), 850(B5), 900(B8)
MIMO
All external connectors are waterproof to IP67 or above
N Type Female RF connectors for connection to external WiFi and 4G multi cellular marine antennas
Ethernet Gigabit 10/100/1000 Auto Sensing
SIM slot Push-Push taking Standard / Mini SIM
Auto sensing 100-240 VAC PSU
Output 18W/12V/1.5A DC
Level VI compliant
2.1 mm power connector
Maximum power consumption is approximately 9W from a 230V AC 50Hz supply
Compex WLE200NX module with Atheros chipset
Dual Band WiFi supporting worldwide ISM bands
802.11bgn on 2.4 GHz
802.11an on 5.8 GHz
Security and encryption standards: Open, WEP, WPA & WPA2, with VPN option
MIMO
Yachtspot has two access levels
A user password grants access to the pages required to connect to a WiFi hotspot, 4G mobile network or an integrated Satellite or Fixed line Internet connection
Administrator only configuration pages are hidden from the user and require an additional administrator's password to unlock and view
BACKUP, LOGGING, SUPPORT PACK
Yachtspot's configuration can be saved to an XML file
Extensive logging option with syslog support
A detailed support pack can be created which provides a comprehensive overview of Yachtspot's sub systems, configuration, and networking
Die cast aluminium
Waterproof to IP67 or above
Complete with bulkhead fittings, connectors, test antennas and RF terminators
Email: YachtSpot@inventicamarine.co.uk
Telephone: + 44 207 394 3050
Screenshots
Example screenshots from the YachtSpot PRO GX.
All our models share a similar UI but there will be some variance according to the particular model's specification.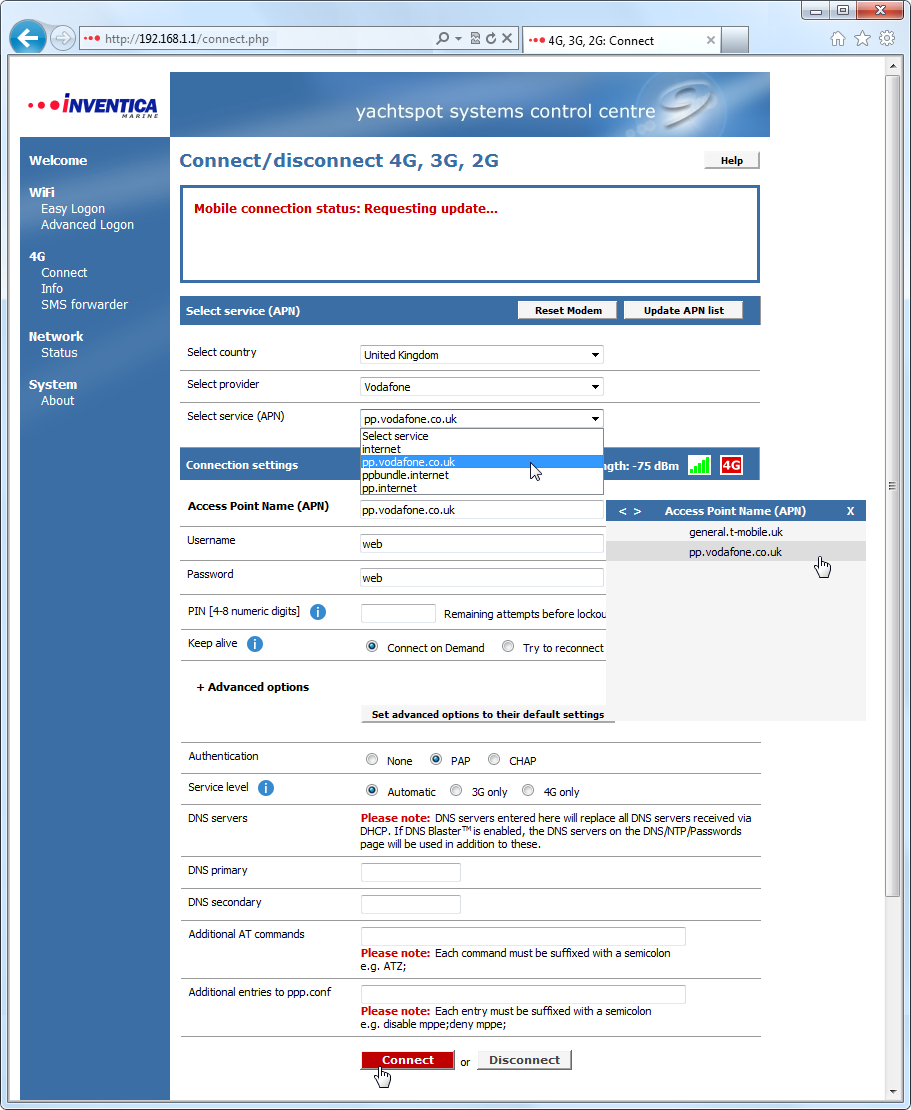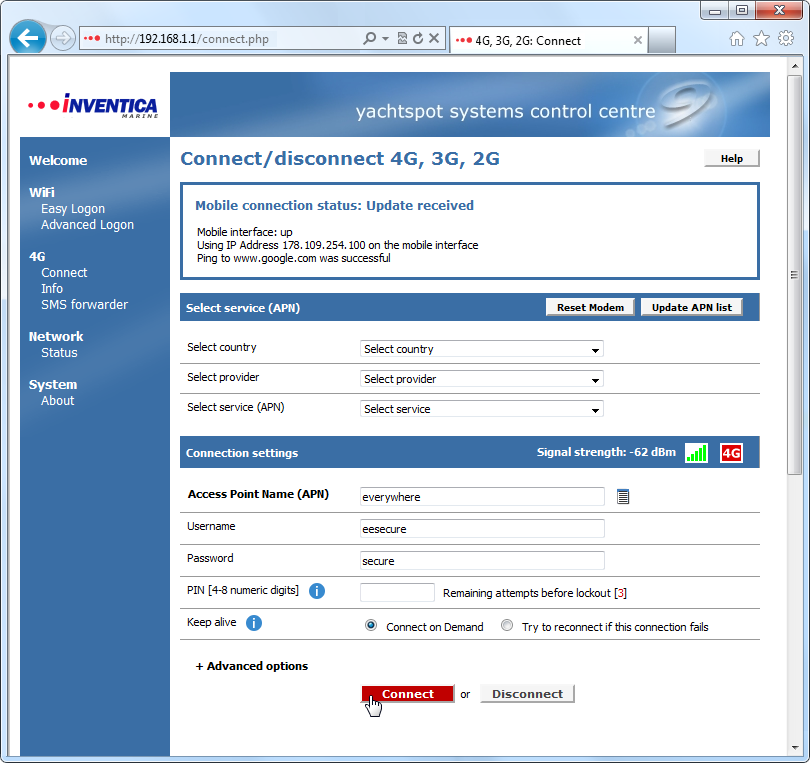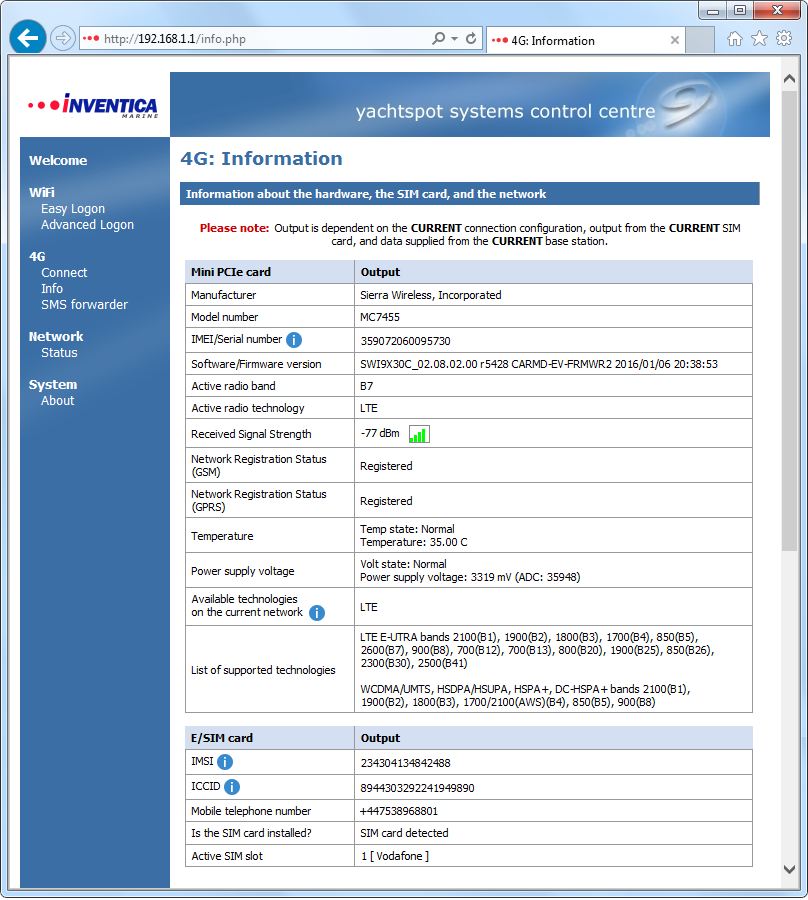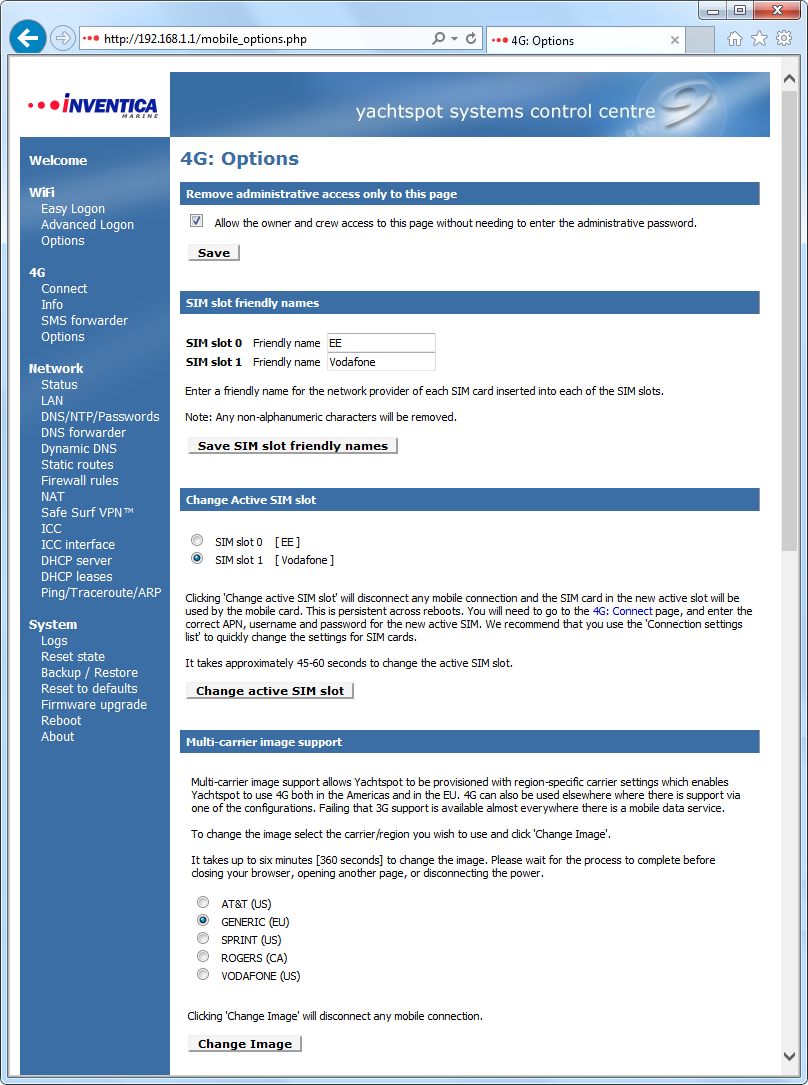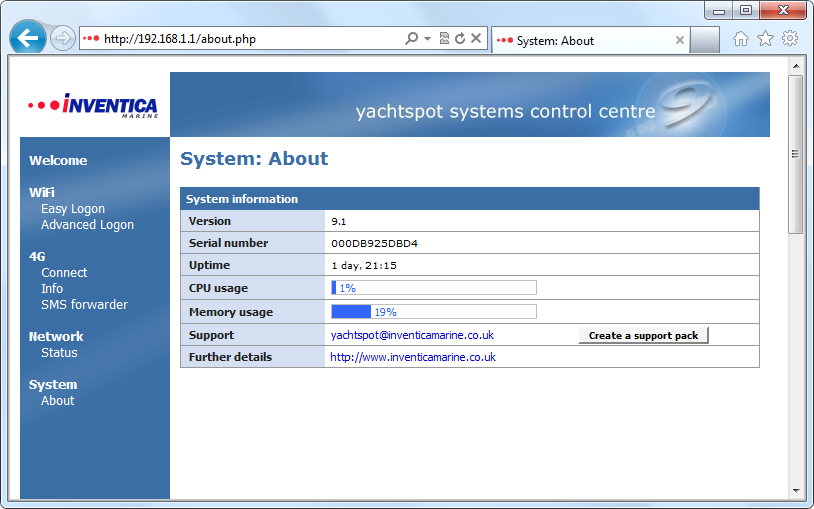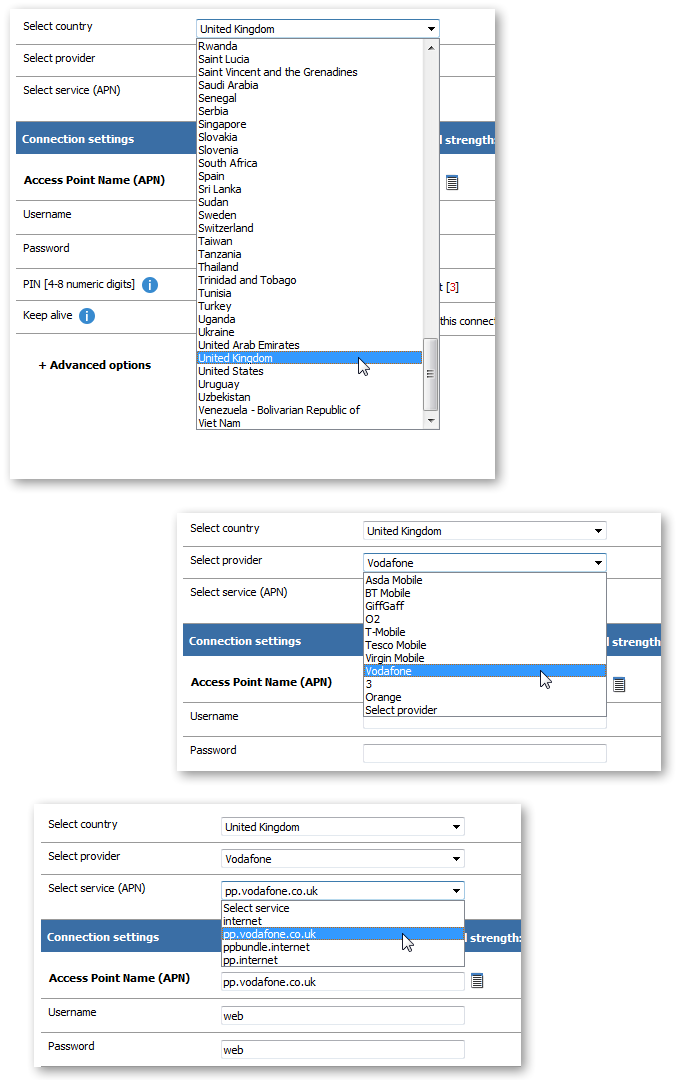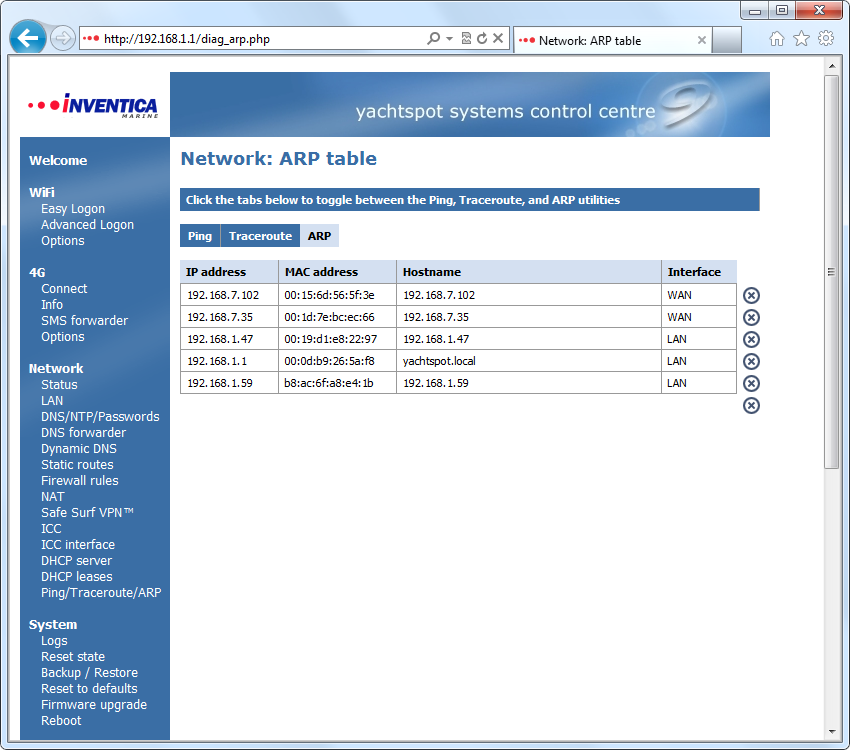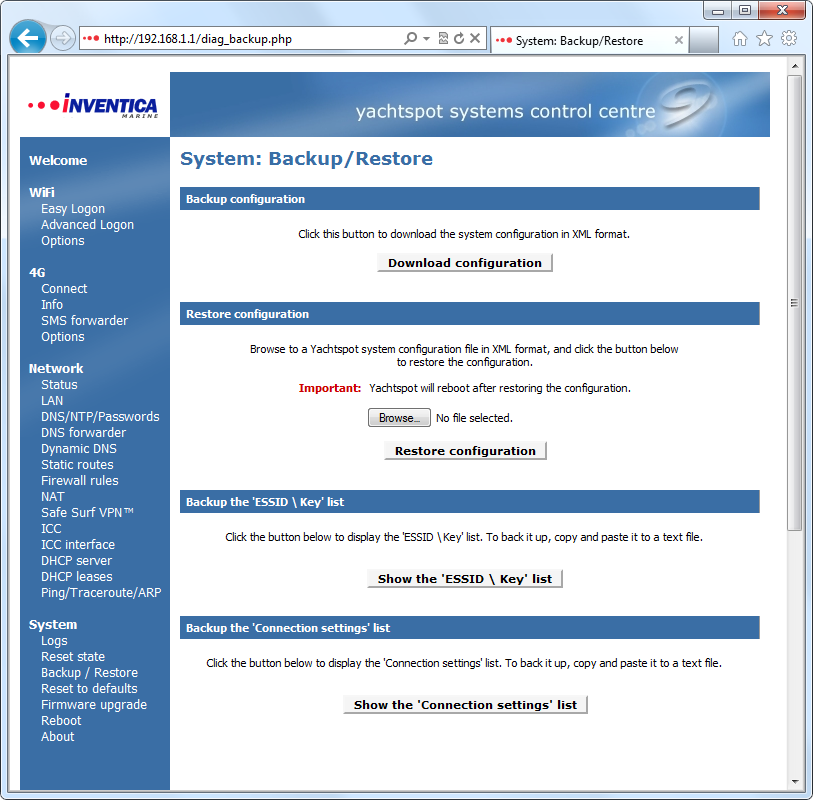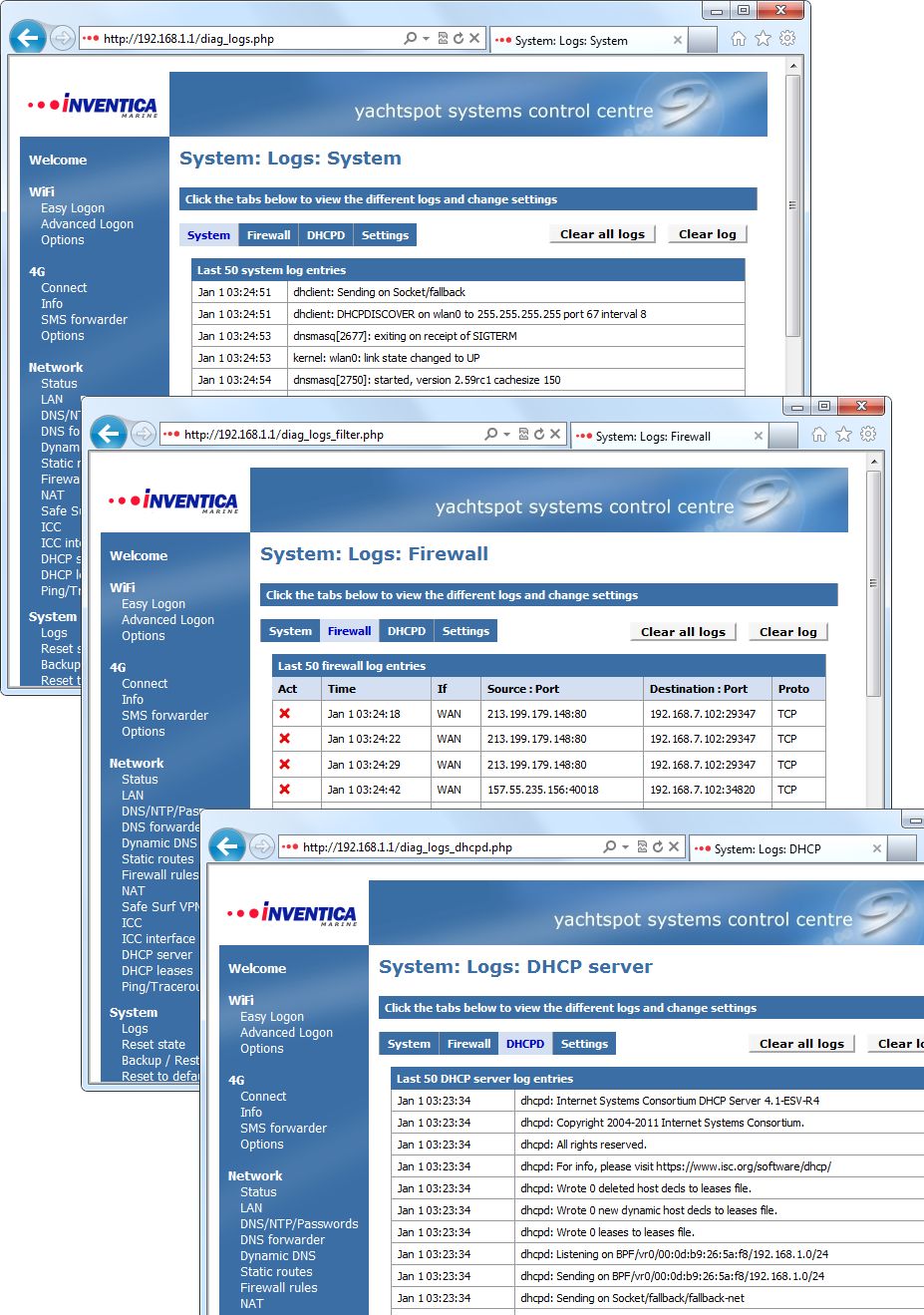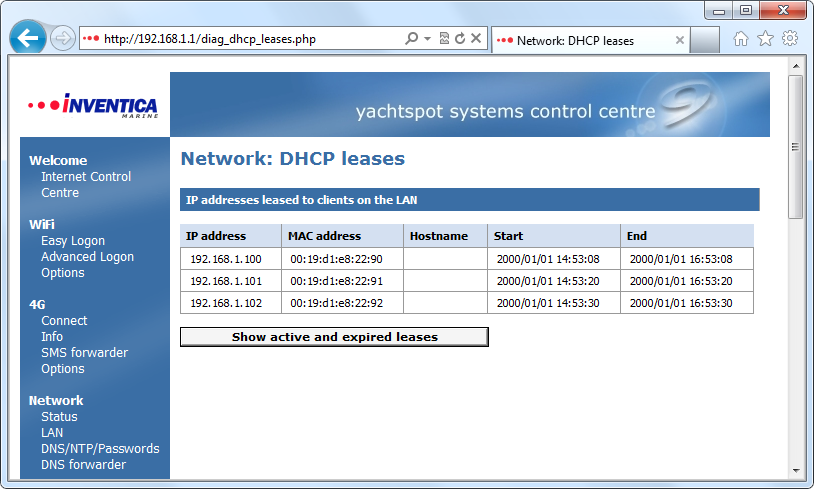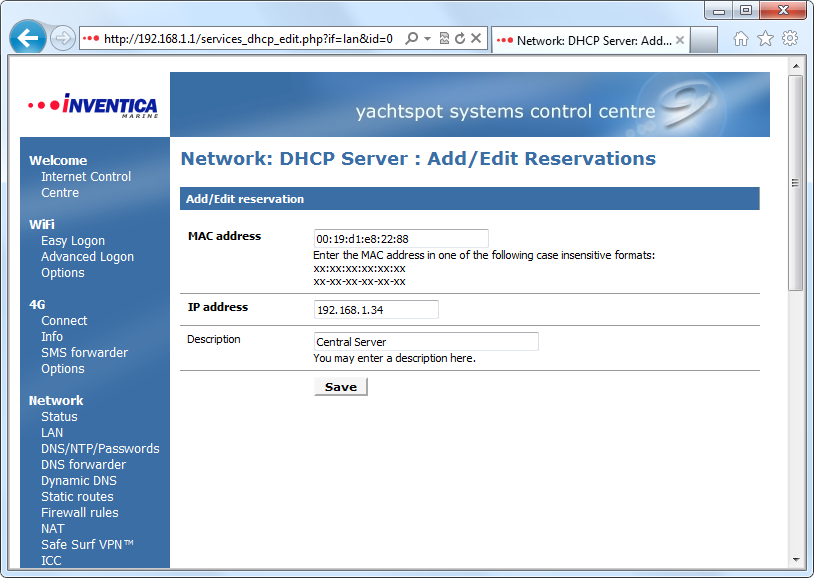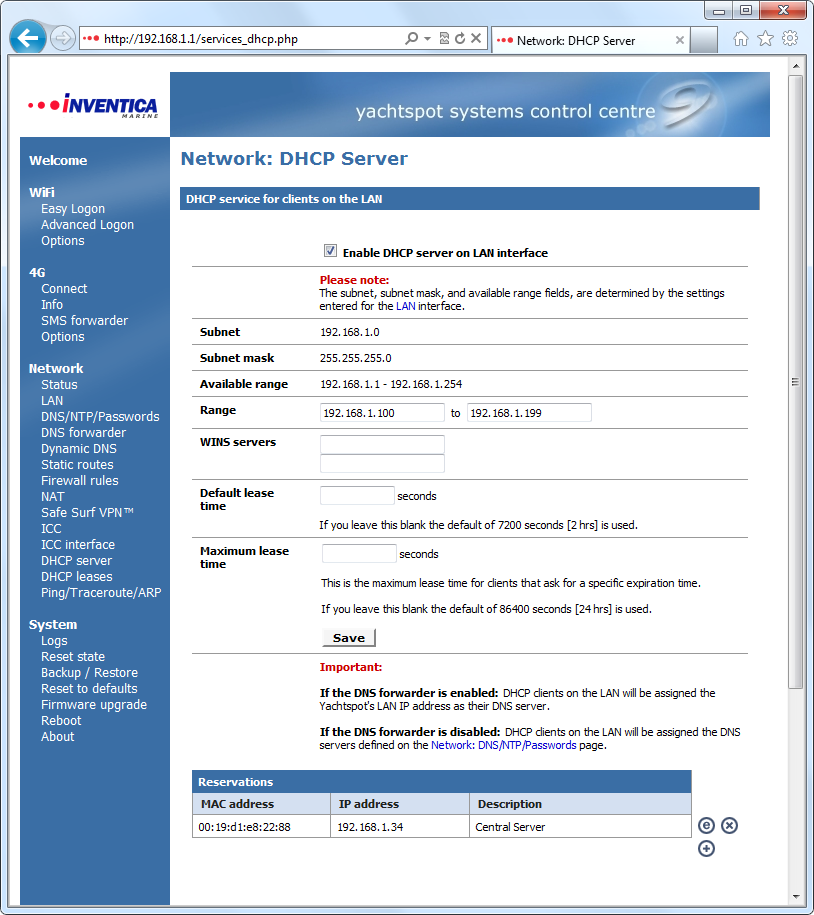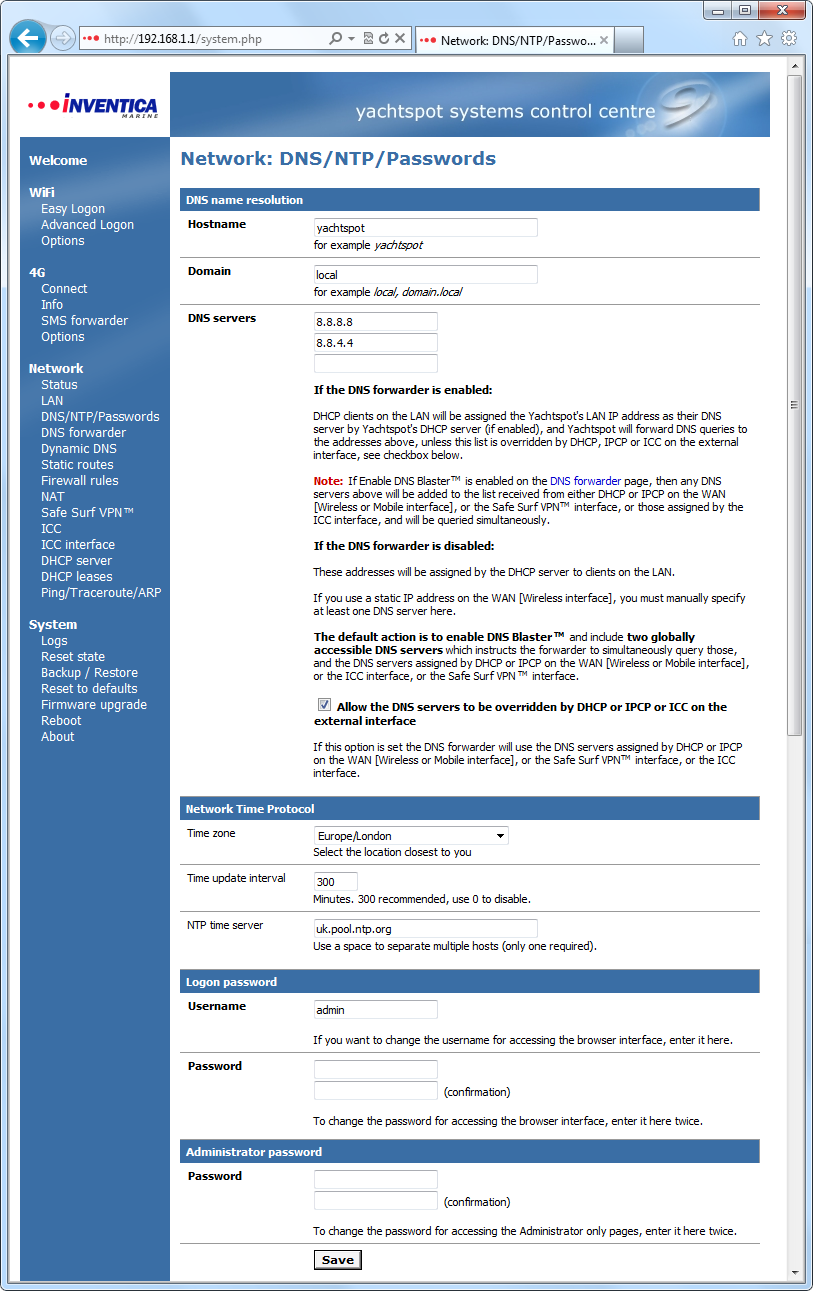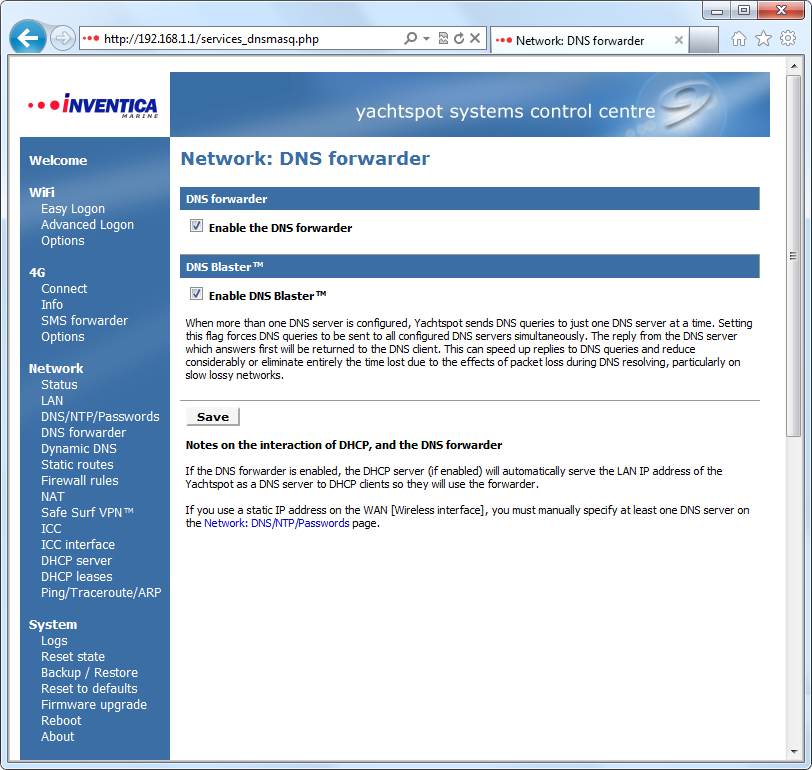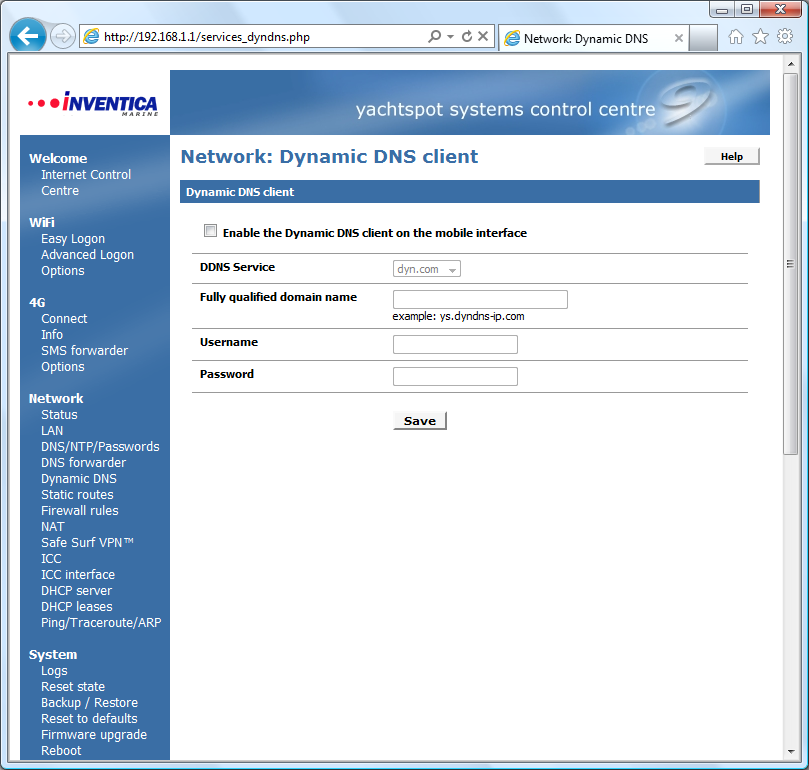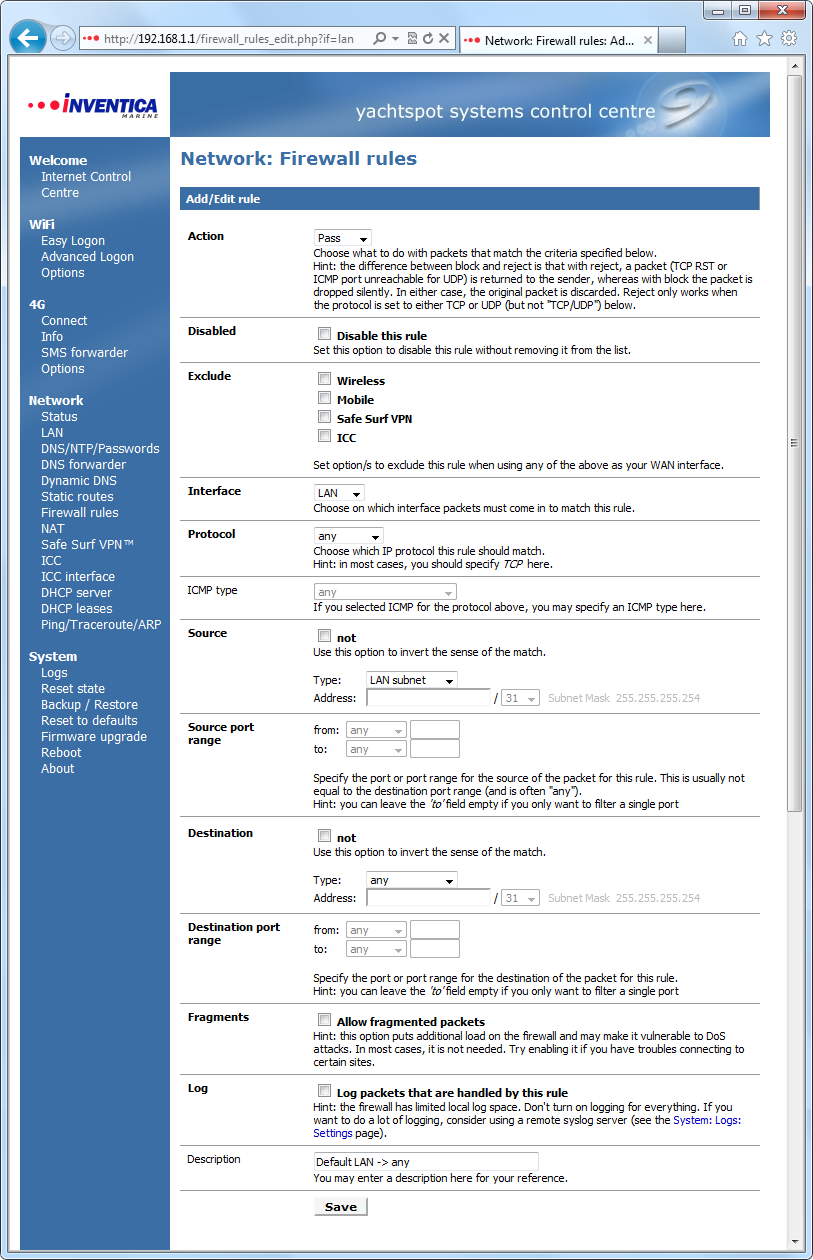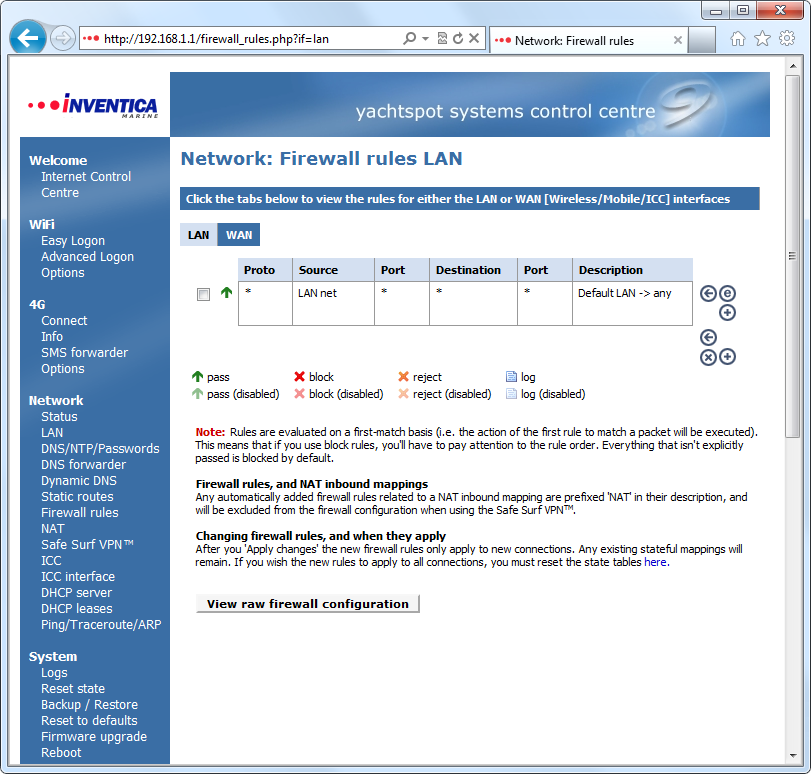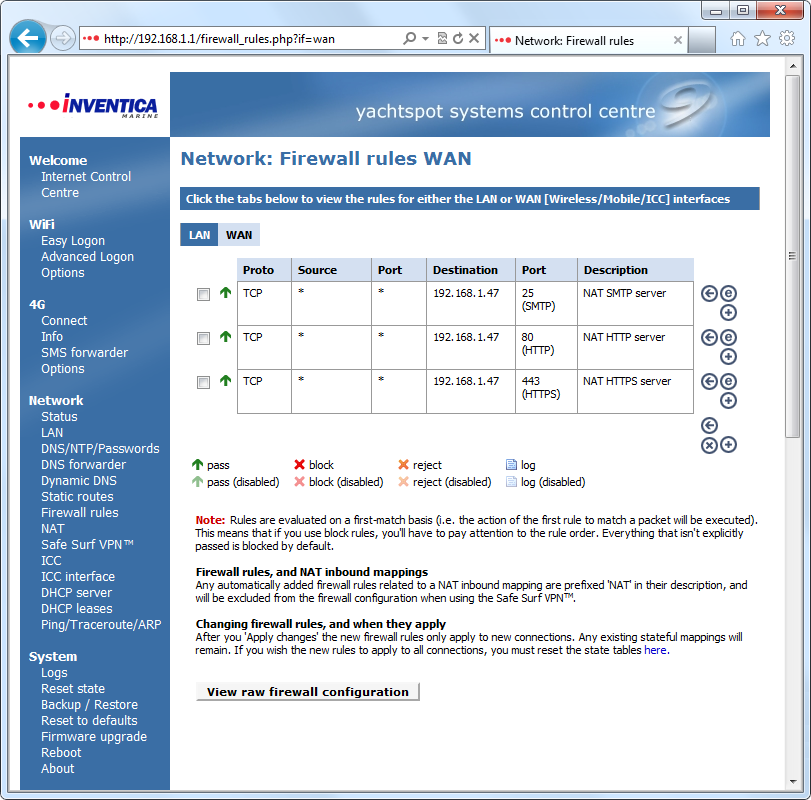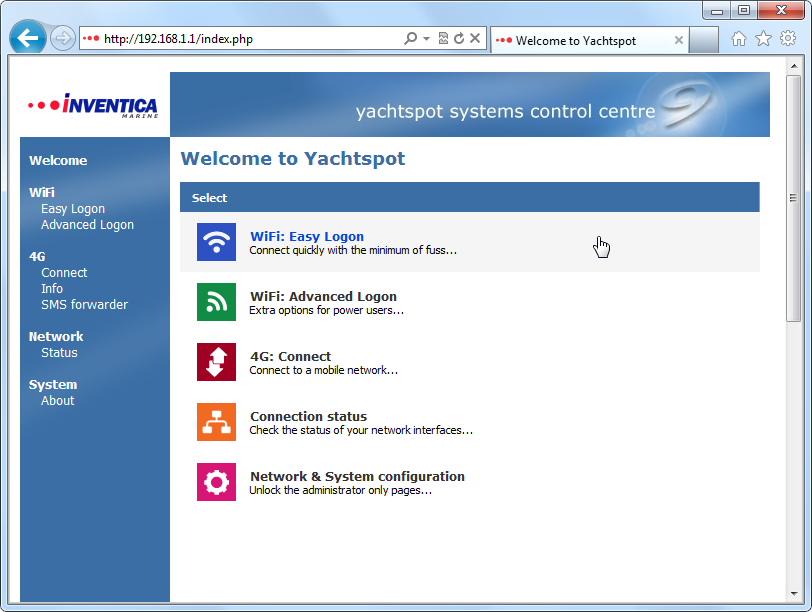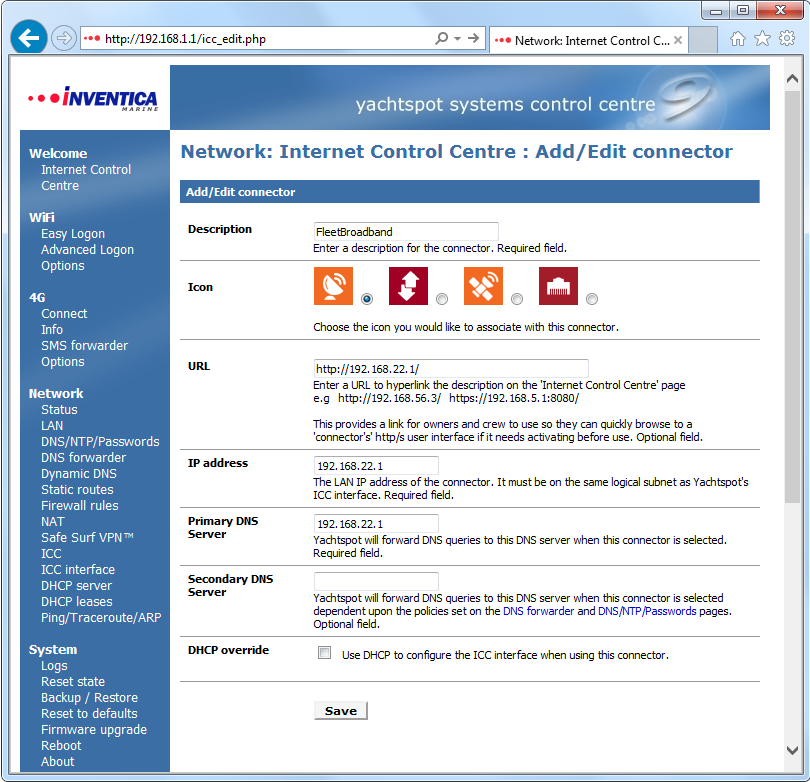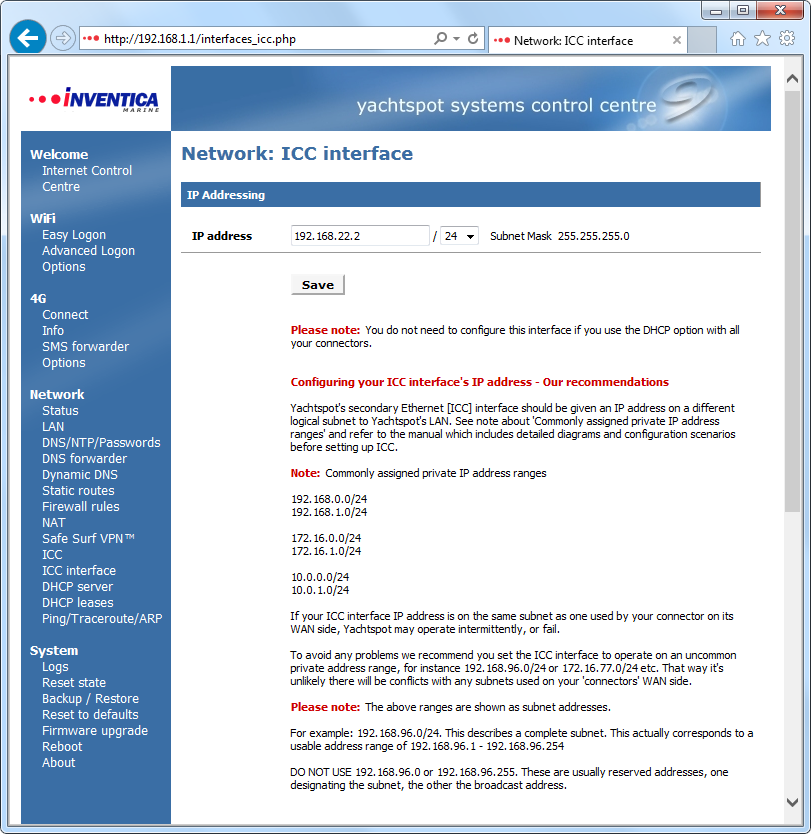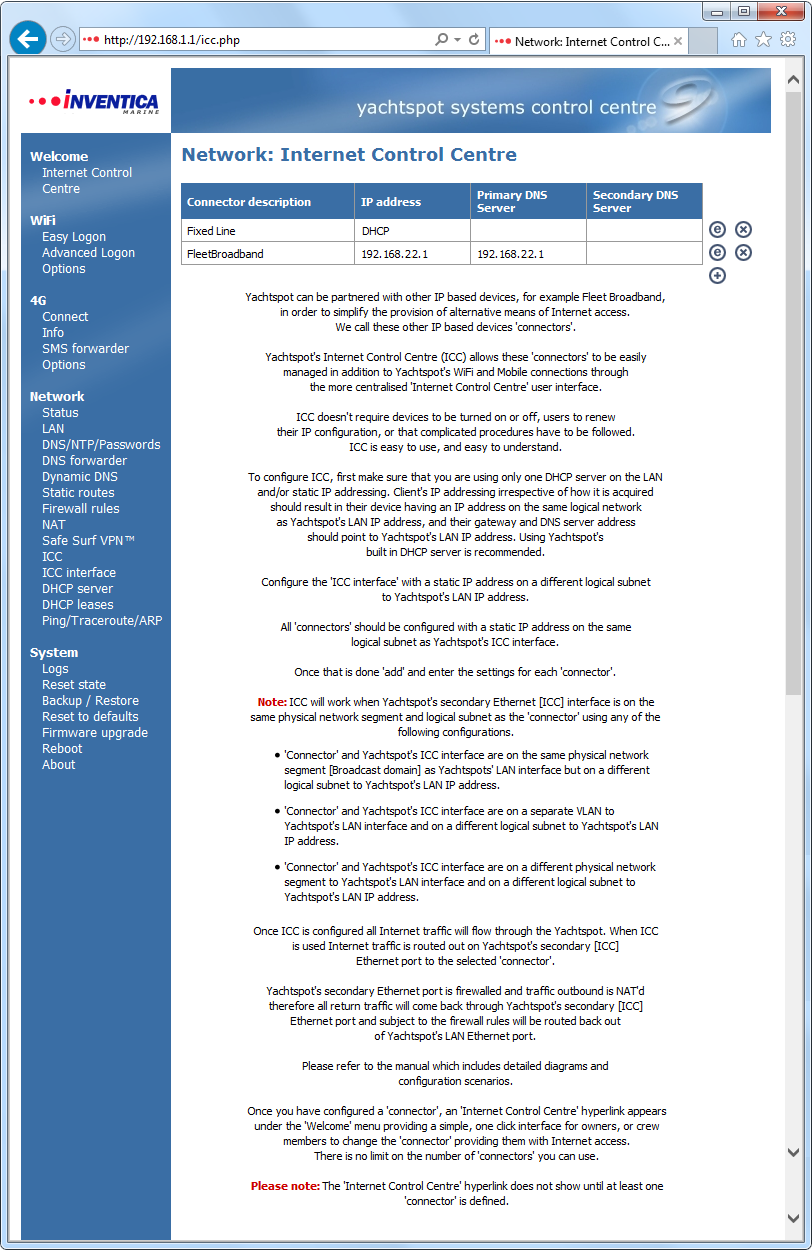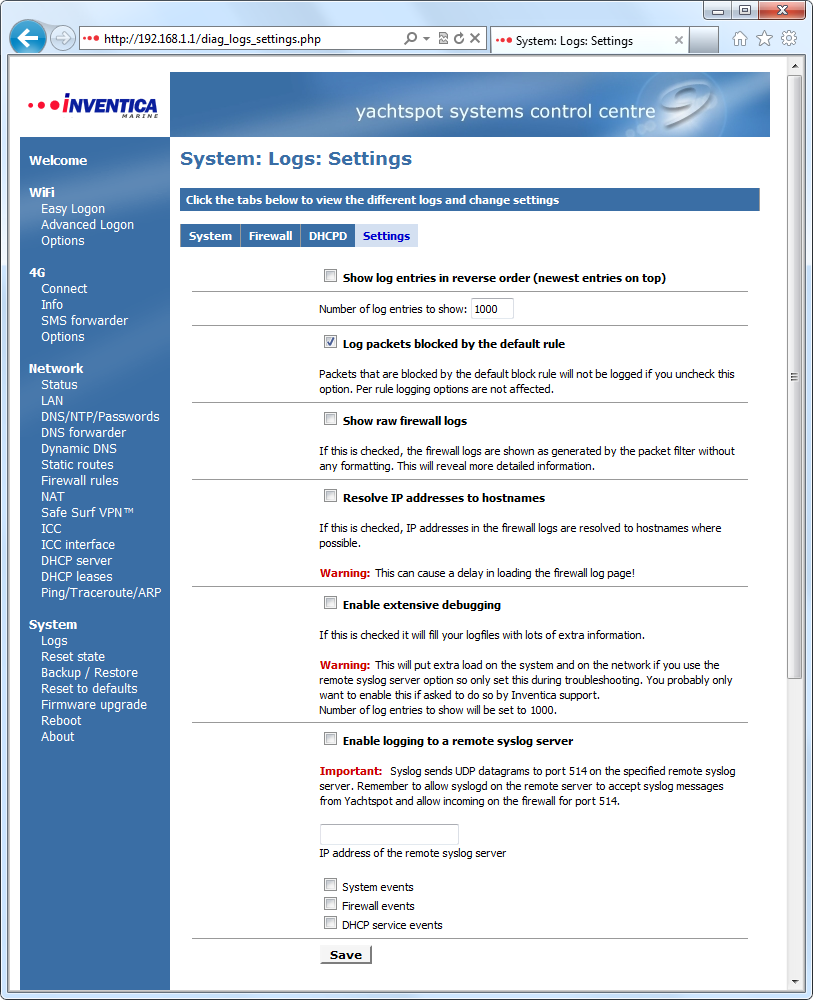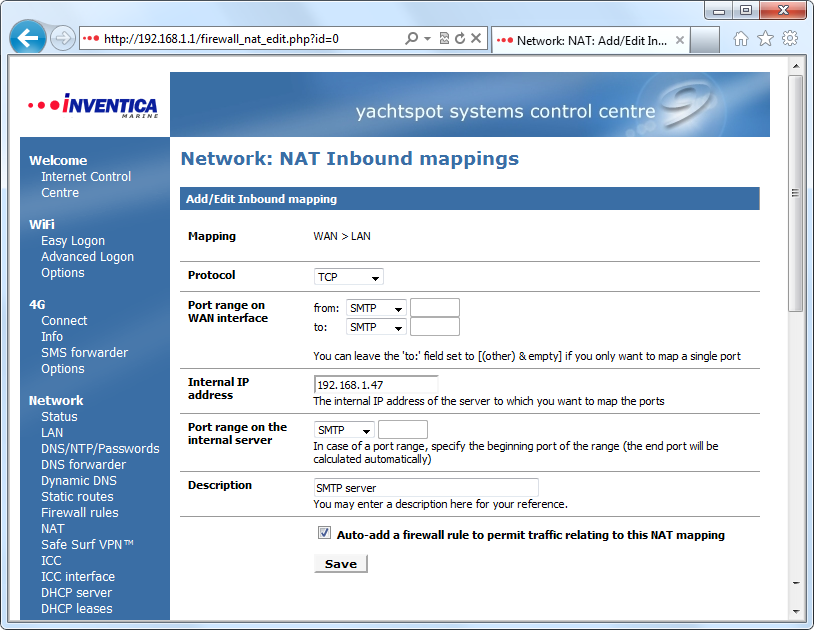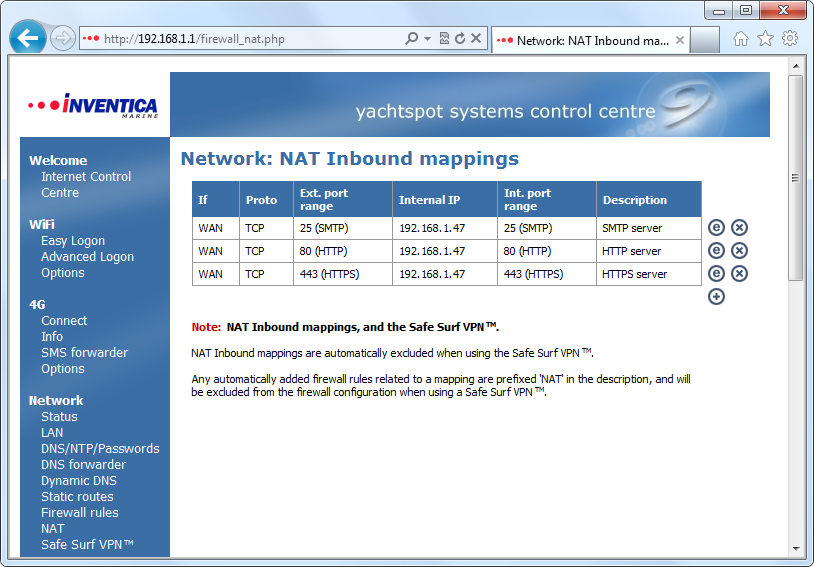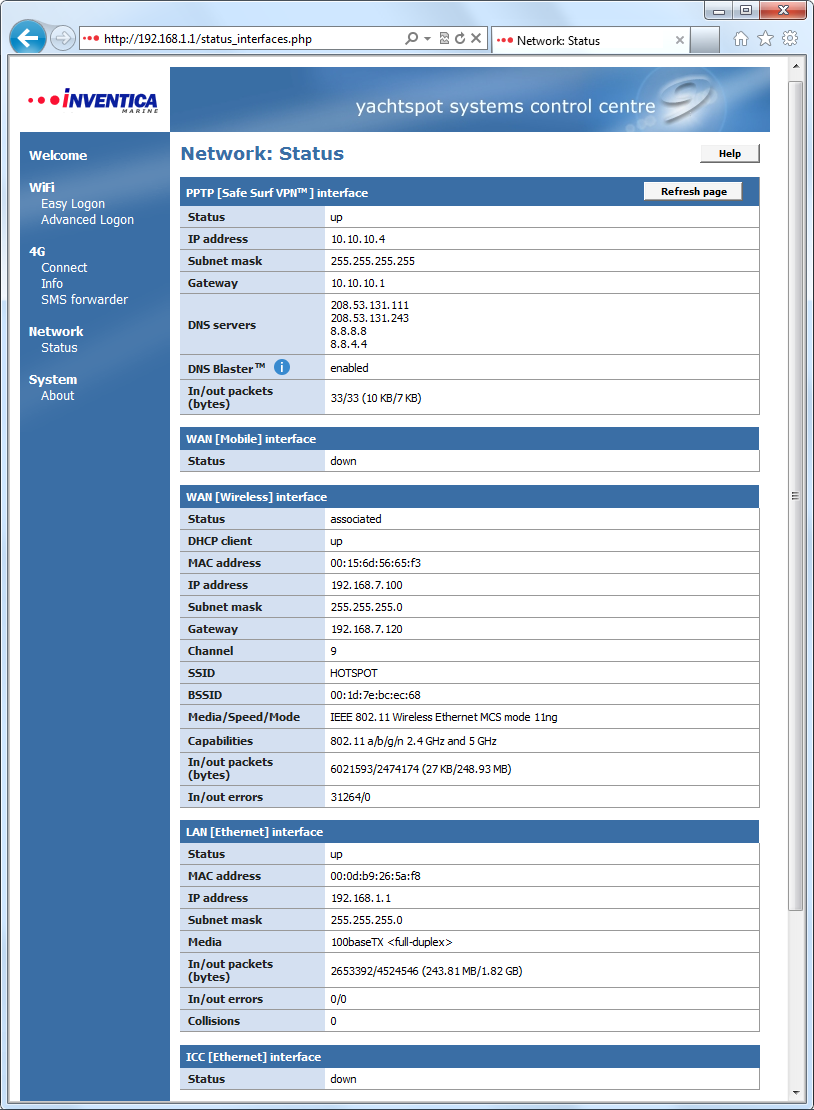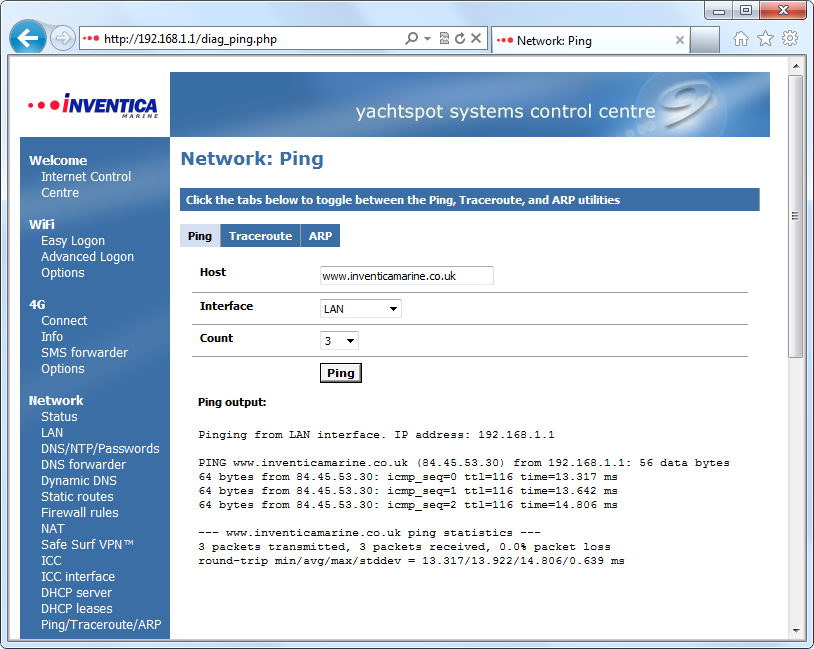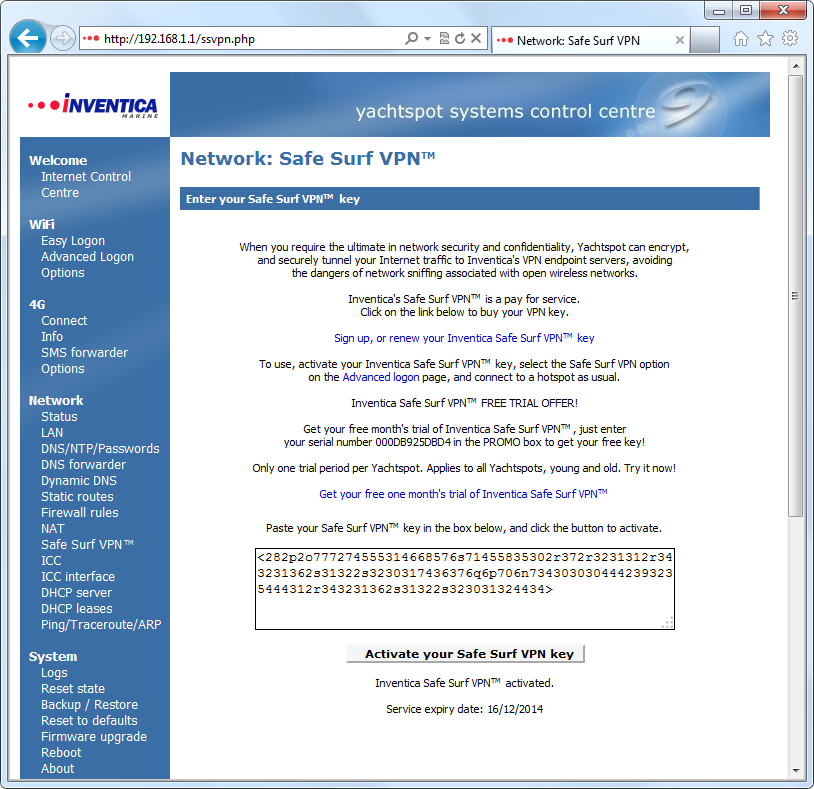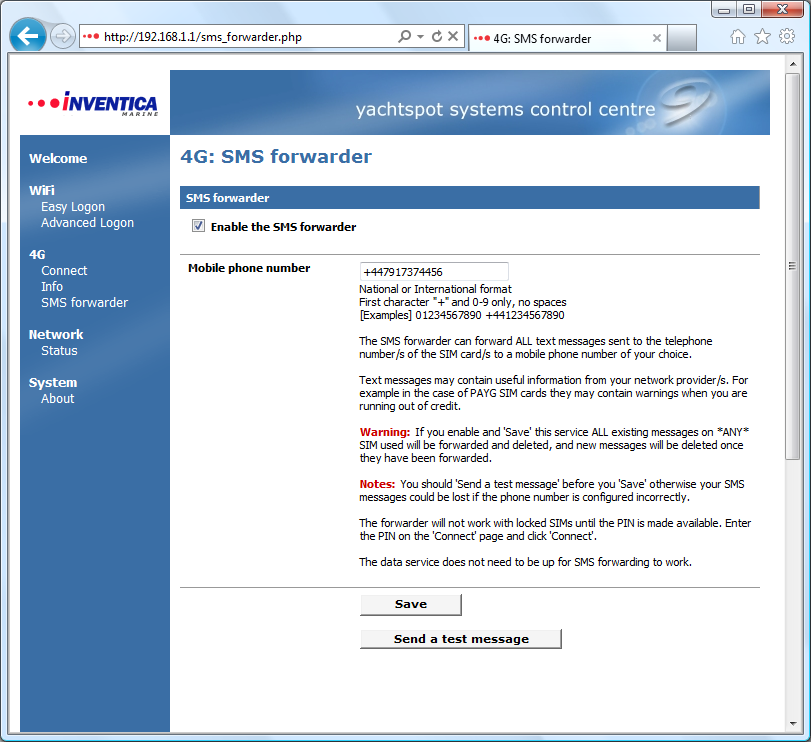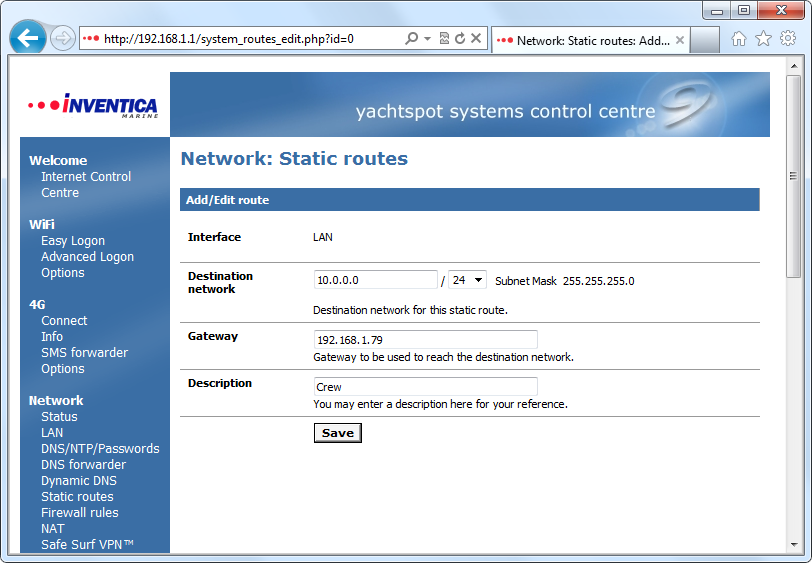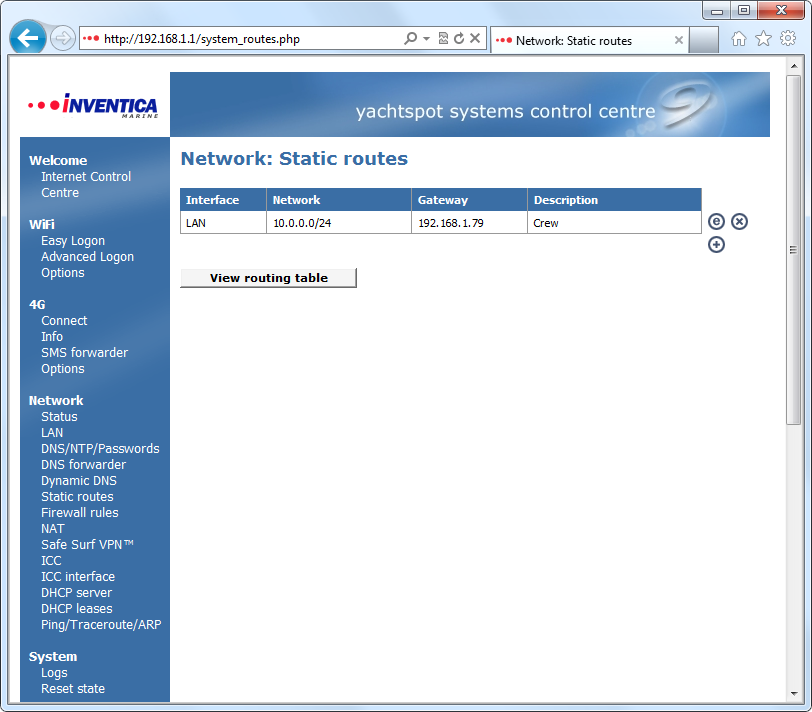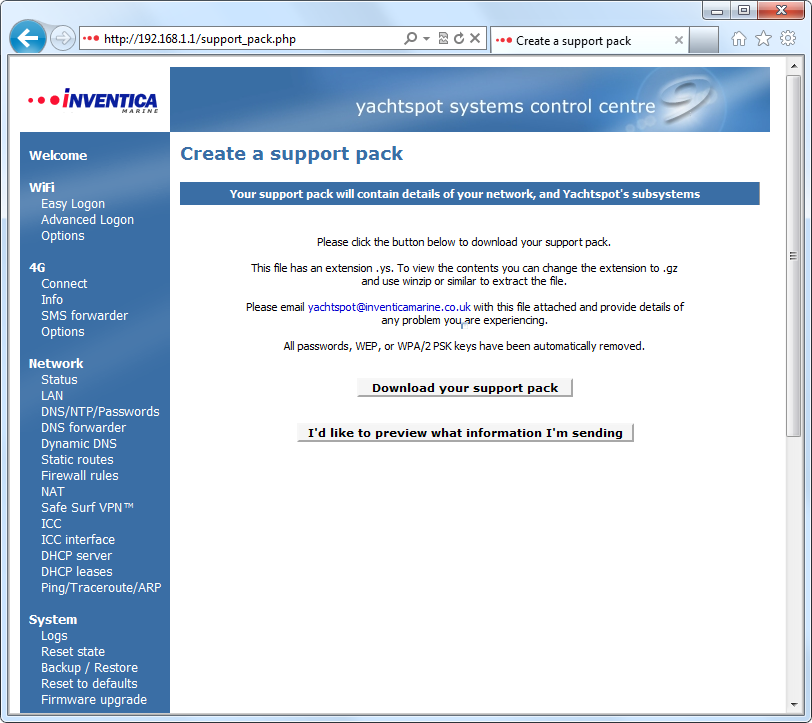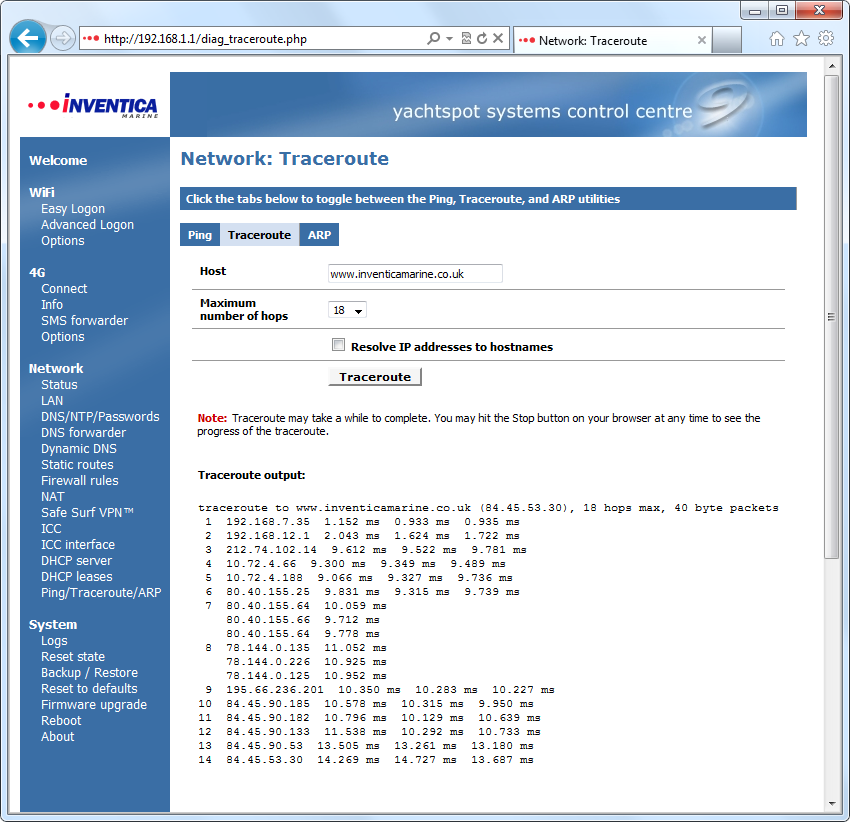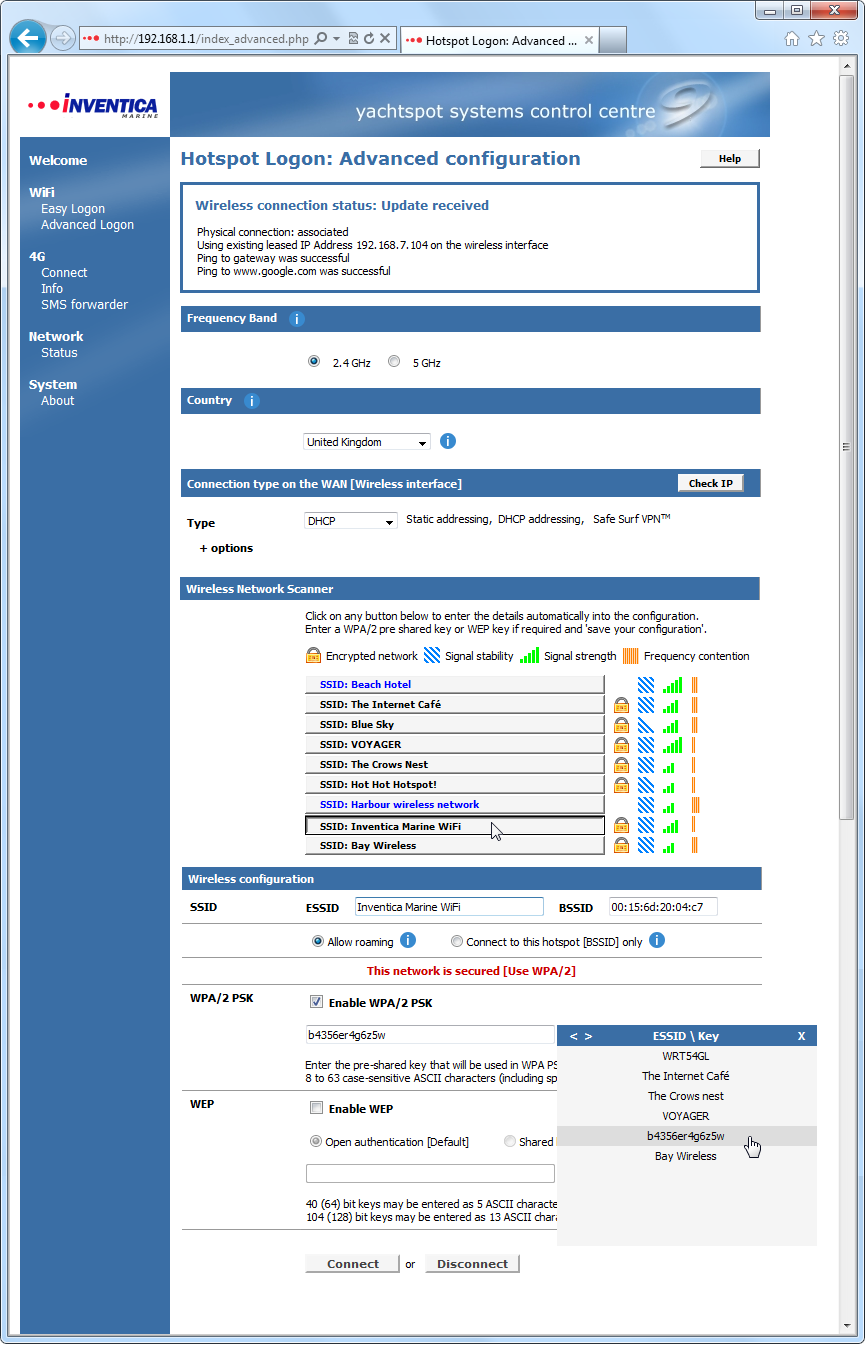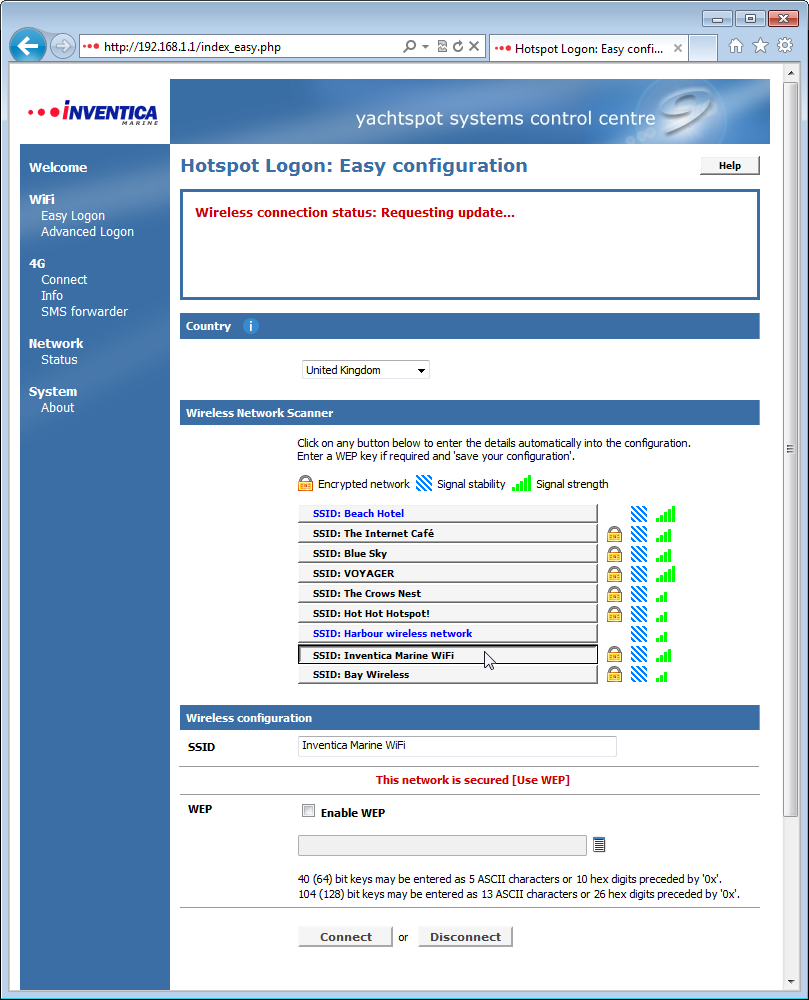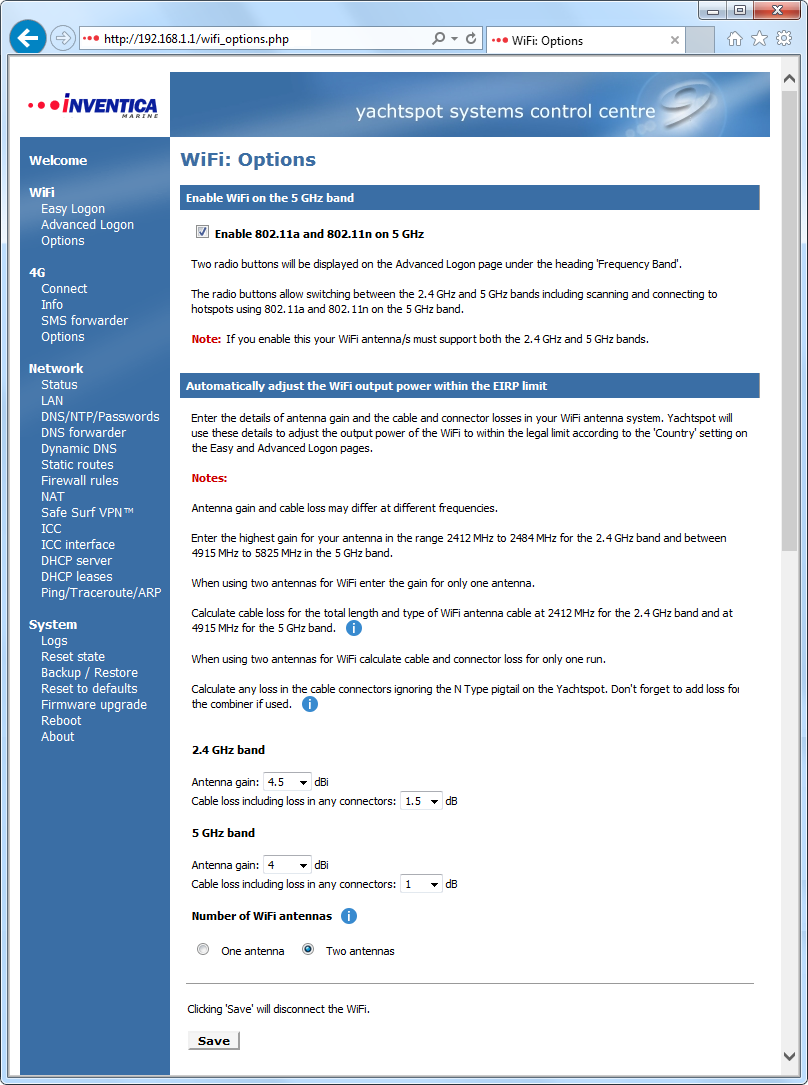 Show more screenshots
Recommended installers
Inventicamarine recommends the use of an approved installer to ensure the installation of our products is performed to the very highest standards.